Gothenburg, Sweden:  Water Knight, based in The Netherlands, was selected as a grand prize winner at the  2018 Imagine Chemistry Challenge finals for their submission "Wastewater treatment intensification through high performance vortex cavitation"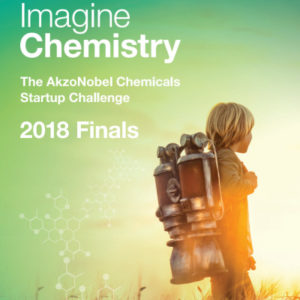 Imagine Chemistry is an open innovation collaboration platform of the AkzoNobel Specialty Chemicals that invites startup innovators from around the world to help AkzoNobel solve real life chemistry challenges faced by their businesses. This challenge creates value-added joint partnerships between promising startups and AkzoNobel Specialty Chemicals. In this year's second edition of the Imagine Chemistry challenge, co-hosted by AkzoNobel and KPMG, there were over 150 submissions of which 20 teams were cherry picked to join the finals event that took place at Chalmers University in Gothenburg, Sweden.
As one of 20 finalists, Ranjeet Utikar and Rahul Dahule of Water Knight who presented the idea on Wastewater treatment process intensification using VoDCa (Vortex based devices for cavitation), an advanced oxidation reactor technology, won the joint development award with AkzoNobel Specialty Chemicals under the challenge area of the Waste Water–Free Chemical sites.
Water Knight, an European collaborating arm of Vivira Process Technologies, is commercializing the technology of VoDCa in Europe. Vivira Process Technologies based in India is a start-up from the National Chemical Laboratory (NCL), which is a prestigious research lab of India.
"This final selection holds great potential to address customer needs and contribute to a sustainable future." said Peter Nieuwenhuizen, Chief Technology Officer at AkzoNobel Specialty Chemicals.
Prof. Vivek Ranade, a principal inventor of VoDCa technology and a core team member of Vivira Process Technologies, said, "We, working as a one team, are honored and very much pleased to be selected as a grand prize winner in the competition. This marks an important milestone in realizing the potential of VoDCa Technology in solving some of the challenging problems faced by chemical industries."
Winners of the competition received letters of intent to negotiate a Joint Development Agreement with AkzoNobel. Full story can be found here.